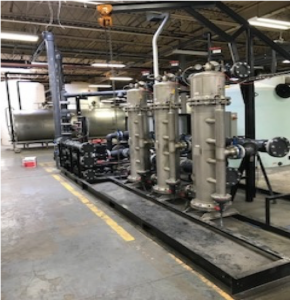 The EF50M4 is built to have the capacity to install 4 microfilter processing stainless steel (SS) filtration units, with a minimum of 20 additional horsepower on the drive pump, larger valving using schedule 80 PVC piping with flow rates up to 15,000bbls/day, doubling the flow of the EF30M skid.
Each EF30M system is 108″ long by 72″ wide, with fork tubes in both directions and weighs approximately 5,000 lbs.
Water Connections:
Inlet Header: 6″ flanges
Outlet Header: 6″ flanges
Concentrator Header: 4″ flanges
Drain: 2″ FPT
Rupture Disk: 4″ flange
Electrical Connections:
460V / 3 PH / 60 Amp supply to skid panel, responsibility of customer
Estimated operational requirements of 20-25 amps per unit.