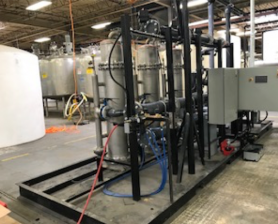 The EF Microfilter skid is fully automated with variable speed controls enabling the operator to set processing flow designs at the most efficient treatment capable out of the highly user-friendly filter, with controls made by Allen Bradley and special features only available with the latest micro-processing technology today.
The general working principals of the filter is crossflow at a high velocity, patent-pending pressure controls with ultrasonic cleaning and air pulse.
We expect up to 5-10% reject rates for the tightest filter element, down to less than 1%, dependent upon incoming solid concentrations.