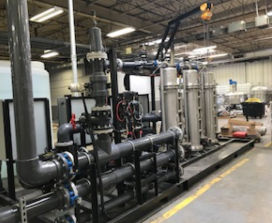 The EF30M Microfiltration System is a highly efficient, automated filtration system that is ideal for applications requiring small particle filtration with high Total Suspended Solid (TSS) loads.
The EF30M brings together the benefits of crossflow filtration and two integral cleaning mechanisms – ultrasonic generation and high-pressure back pulsing.
Made with high quality stainless steel, the unit comes with a range of filter element sizes, which operate with low maintenance.
The EF30M is rated for flows up to 220 gpm or 7,500bbls per day, depending on water quality.
Designed for ease of maintenance, long runtimes, and efficient operations
Replace filter screens with hand tools