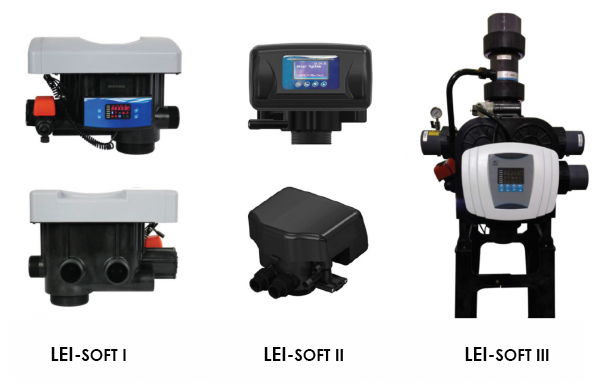 Softening and Conditioning Systems
Light Environmental Technology offers three different water softening systems; LEI-Soft I, LEI-Soft II and LEI-Soft III. Each model was designed to fit your needs.
The control valves in LEI-Soft models I & II have a lifetime warranty on the mechanical seal. They also have a rotary ceramic disc seal engineered to eliminate the common failure points of spacers, o-rings, and gaskets. The LEI-Soft III model control valve is hydraulically driven for significantly reduced wear and tear of internals, and is side mounted around chest height for easy maintenance and system performance inspection.
WHY ARE THESE VALVES BETTER?
These valves are better because we eliminated the common failure points. Before we created our own LEI-Soft water softener product line, we resold the same control valves used in the top four water treatment company's products. Fundamentally known as piston type valves. All of these piston type valves deal with the same common failure points that need maintenance every few years: spacers, o-rings, gaskets, piston kits, etc. Our rotary disc seal design in LEI-Soft products eliminates those failure points, making for smoother operation and longer life, enabling us to offer the best warranty on the market.
INDUSTRIES WE SERVE
Food & Beverage Manufacturing
Laboratories
Pharmaceutical Manufacturing
Chemical & Petroleum Refineries
Heavy Industrial Markets
General Industrial & Commercial
Higher Education
Healthcare